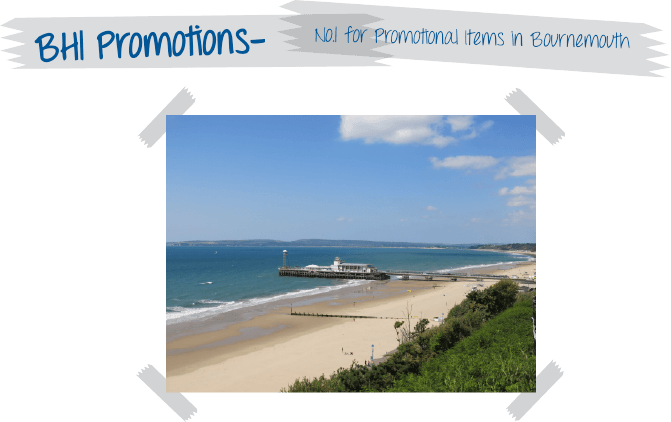 As a Dorset based company, BH1 Promotions are happy to be a leading provider of promotional gifts and items not only nationally, but also its home town of Bournemouth too. We take massive pride in our portfolio of Bournemouth based clients, ranging from local clubs and associations to some of the most respected blue chip organisations in the world.

Corporate Gifts & Promotional Items in Bournemouth
With over 10 years of experience, BH1 encompass the wealth and breadth of experience to supply our clients with the very best in promotional items, promotional gifts and promotional giveaways. Our methods of branding range from printing, embossing, engraving and embroidering to allow for a range of extensive options of possible products you wish to promote. As part of the UK's largest buying group of promotional merchandise, our catalogue of possibilities are limitless, in addition, we boast FREE delivery, FREE artwork and absolutely FREE consultation to help walk you through the best options for your business promotion.

Local Bournemouth Information
As a member of the Bournemouth Chamber of Trade & Commerce, BH1 are always at the forefront of local B2B events, sponsoring local and regional events such as Golf Days, Charity events as well as supporting corporate events with their wide range of products. BH1 have been proud sponsors of the Business South event for the past 5 years. As the largest B2B show in the south coast, BH1 feel truly at home and relish to opportunity to be a part of such a highly anticipated annual event.

Promotional Pens & Corporate Gifts in Bournemouth
In a bid to fly the patriotic flag for Bournemouth, as well as indicate the accessibility of your company, it is a good idea to have your company merchandised localised. For example, "Joe Bloggs Inc – Bournemouth" By way of advertising your company through promotional merchandise, it broadens the scale of your company name whilst lending strength to the potency of your company or brand name. Whether it is promotional pens Bournemouth, printer mugs Bournemouth or printed clothing Bournemouth, a good range of merchandise can maximise your company name and/or presence.